Fernanda  Ferreira, Ph.D.
Email:  fferreira@ucdavis.edu
Phone: (530) 752-5497
---

Miguel Oliveira, Jr., Ph.D.
Email: miguel@fale.ufal.br
---
Matthew Lowder, Ph.D.
Postdoctoral fellow
Email: mlowder@ucdavis.edu
---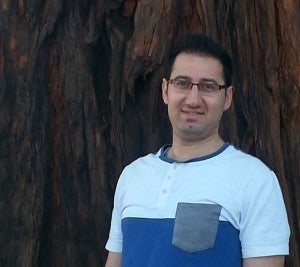 Hossein Karimi, Graduate Student
 Email: karimi@ucdavis.edu
I did my Bachelor's degree on language teaching and testing in Iran. Then, I moved to Scotland to do my Master's in Psychology of Language at the University of Edinburgh. I started working towards my PhD under Dr. Ferreira's supervision in 2012.
My research interest is discourse processing in general and pronoun processing in particular. How do we manage establish a meaningful link between subsequent reference to a previously-encountered entity in discourse? This is particularly interesting when reference is ambiguous and multiple entities could potentially be chosen as the referent. Under these conditions, psychological biases for information processing are revealed. I use behavioral techniques such as sentence completion, reaction time and eye-tracking (both in reading and in the visual world paradigm) as well as non-behavioral techniques such as ERPs (Event-Related Potentials) to investigate my questions.
Please visit the lab's Publications page for my papers.
---
Eleonora Judith Beier
I was born in Italy, where I lived until 2012. In May 2016, I graduated from Bard College (NY) with a BA in Psychology and a concentration in Mind, Brain and Behavior. Supported by a National Science Foundation Graduate Research Fellowship, I am currently expanding the results of my senior thesis, exploring strong emotional responses to music from familiar and unfamiliar cultures. Previously, I studied acoustic cues of incoming syntactic structure at Rutgers University, as part of an REU internship. I plan to continue investigating topics in psycholinguistics and music cognition through my PhD.
---
 Zoe Yang
I am an entering PhD student, and I will be working with John Henderson and Fernanda Ferreira. I have a masters degree in Mind, Brain, and Education from Harvard and I'm an alumna of Mount Holyoke College.
---
Nene (Suphasiree) Chantavarin
Hi, I'm Nene! I received BSc in psychology from Chulalongkorn University (Thailand) and a BA in Psychology from the University of Queensland (Australia). I have a broad interest in the cognitive and neural mechanisms of language processing, including topics such as comprehension, reading, syntax, and bilingualism.
---
Harvey (Zhuang) Qiu
With a Bachelor's degree in English (Chongqing University) and a Master's degree in Linguistics (Peking University), I joined the PhD program in Linguistics at UC Davis in 2016. Under Fernanda's supervision, I started my research in the lab in 2017, while at the same time working as a teaching assistant in the department of linguistics. I am interested in how functional pressure influences the selection of syntactic structures during language production, and how people communicate with superficial interpretation of linguistic input ("good-enough processing"). In addition to language research, I have a broad in interest in philosophy, Chinese culture, creative writing, and modern art.